A large deep fryer can only mean one thing – comfort food! With the holiday's right
around the corner, easy access to comfort food is a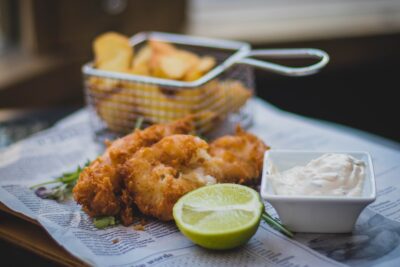 wonderful reason to purchase a large deep
fryer. If you are hosting this holiday season you will not regret purchasing a large deep fryer.
There are many different types of foods that you can cook yourself with the use a home deep
fryer including fried chicken, apple fitters, deep fried cookies, apple cider donuts (or donuts of
any kind!), and even homemade potato chips!
While there are so many different types of comfort foods that you can make with your
deep fryer, you want to make sure that you do so safely. Start with an oil that has a high smoke
point so that it can be heated for long periods before it starts to smoke and eventually burn.
You will also want to make sure that you select a very sturdy pan. Never fill the pan more than
2/3 full with oil as it can bubble up. A sturdy pan is necessary as a flimsy pan will spill oil
everywhere. Never put wet food directly into your fryer. Excess liquid can cause oil to sputter
and cause injuries. Simply pat your wet food dry before placing into your deep fryer.
Remember never to leave your deep fryer unattended. It can only take a few minutes to
things to get out of hand and start a fire. If you have any questions about a particular deep fryer
we are here to help. We hope you are able to make the most wonderful deep fried comfort
foods this holiday season!