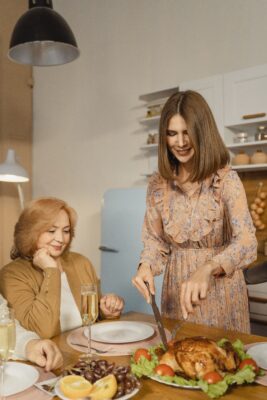 Are you hosting Thanksgiving dinner this year and feeling overwhelmed? Fear not! The ultimate Thanksgiving hack is here to save the day. That's right, you can put your large deep fryer to work and make hosting the holiday a breeze. Deep-frying has become increasingly popular in recent years, and with good reason. Not only is it an incredibly easy and delicious way to prepare your Thanksgiving feast, it also saves time and reduces stress. Plus, it adds a unique flavor that'll have your guests begging for seconds. So get ready to impress your family and friends by utilizing your large deep fryer this Thanksgiving!
Get Your Turkey Perfectly Fried Every Time
When it comes to cooking the star of the show, your Thanksgiving turkey, using a large deep fryer is the key to success. Not only does deep frying give you a perfectly crispy skin, but it also ensures a juicy and flavorful bird every time. With the right temperature and cooking time, your turkey will be golden brown and succulent, making your guests come back for seconds. Whether you're a deep frying pro or a newbie, we'll walk you through the steps to ensure your Thanksgiving turkey is a culinary masterpiece.
Side Dishes You Didn't Know You Could Fry
Expand your culinary horizons this Thanksgiving by discovering the endless possibilities of frying your side dishes. While we typically associate frying with the golden goodness of french fries or onion rings, there are so many other dishes that can benefit from a dip in hot oil.
First on the list is fried stuffing balls. Take your leftover Thanksgiving stuffing, roll them into bite-sized balls, and fry them until they're crispy on the outside and deliciously gooey on the inside. The contrast in textures will have your guests raving. Next up, fried green beans. Instead of the traditional steamed or sautéed version, try breading and frying your green beans. The result is a delightful crunch that pairs perfectly with a tangy dipping sauce.
If you're looking for a unique twist on mashed potatoes, try frying them into potato pancakes. Crispy on the outside and creamy on the inside, these fried potato cakes will be a hit at your Thanksgiving feast. Lastly, don't forget about fried mac and cheese bites. Take your favorite mac and cheese recipe, form them into bite-sized nuggets, and fry until golden brown. The combination of the crunchy exterior and gooey, cheesy interior is a match made in heaven.
By incorporating these fried side dishes into your Thanksgiving spread, you'll elevate your meal to a whole new level. Surprise your guests with these unexpected treats and watch as they go back for seconds (and maybe even thirds!). So, don't be afraid to venture beyond the usual mashed and roasted side dishes this Thanksgiving and embrace the deep fryer for a truly unforgettable feast.
Desserts to Wow Your Guests with Your Fryer Skills
Who said your deep fryer was just for savory dishes? It's time to take your Thanksgiving desserts to a whole new level with the magic of frying. Whether you're looking to impress your guests or simply satisfy your own sweet tooth, these fried desserts are guaranteed to wow everyone at your holiday feast. First up, let's talk about fried apple pie. Imagine biting into a crispy, golden-brown crust and being greeted with a warm, cinnamon-spiced apple filling. It's the perfect combination of textures and flavors that will have your guests asking for the recipe.
Next, let's indulge in some fried doughnut holes. These bite-sized treats are a crowd favorite and can be customized to your heart's content. From powdered sugar to cinnamon sugar coatings, or even a drizzle of caramel or chocolate sauce, the possibilities are endless. They're sure to disappear in seconds!
If you're a fan of classic desserts, why not try frying up some fried Oreos? This carnival-inspired treat is super simple to make and will transport your guests to a nostalgic state of bliss. The heat of the fryer transforms the cookie into a warm, melty delight that pairs perfectly with a cold scoop of vanilla ice cream. Last but not least, let's not forget about fried pumpkin pie. Take your favorite pumpkin pie recipe and turn it into individual hand pies that are fried to perfection. The crispy exterior and creamy pumpkin filling create a dessert experience that is nothing short of heavenly. So this Thanksgiving, don't be afraid to venture into the world of fried desserts. Your large deep fryer is a versatile tool that can turn ordinary desserts into extraordinary delights. Surprise and delight your guests with these decadent treats and be prepared for compliments that will last long after the holiday is over.